Camp Sunshine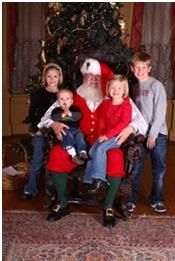 is a charity that enriches the lives of children with cancer and their families through recreational, educational and support programs allowing them to share similar experiences and to participate in activities that promote normal childhood development as they cope with the challenges of childhood cancer. LowCountry proudly supports Camp Sunshine as was evident by our recent sponsorship of two events; on December 2, 2010 and December 7, 2010, we supplied our catering services to Camp Sunshine events, with proceeds going to further their mission and to aid the ailing children at Camp Sunshine. The donation was given to fund a special visit to see Santa Claus at Rhodes Hall.


The trip was a magical event that the children will never forget. Some got to meet Santa for the first time, while others already knew the drill and began reciting their thorough list of holiday wishes. LowCountry prides itself on never-ending love to service and helping the local community. We feel privileged to be able to support such a worthy cause, and will continue to look for ways to donate in the future.
We even received a wonderful note from The Georgia Trust for Historic Preservation commending us for our efforts:
Bennett,
Thank you so much for all of the AWESOME food last Thursday! The barbecue, as always, was amazing, and everyone (even Santa) enjoyed it.  Thank you for being such a dear friend and supporter of The Georgia Trust.  We are so fortunate to have you and LowCountry Barbecue help us – thank you for all you do for us!
Best,
MaryRailey Binns
Special Events Manager